Creating custom furniture involves a cascading series of actions, each tied to the action that came before it, like a climbing rope with helpful knots placed at even intervals.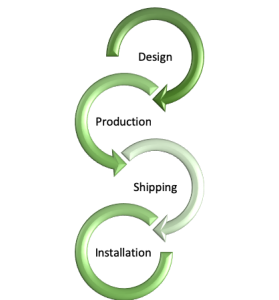 After the sales team has made its calculations, the design, production, and logistics departments rise into place, one by one, as focus moves along the process. And even though installation on site is the last step in that process, planning for it early is vital to a smooth experience.
Preparing the installation should start towards the beginning of a project and not be left as an afterthought as production winds down. The new furniture will have already journeyed a long distance; thought must be given to where the new (still-packaged) furniture must navigate to get to its final destination. Starting with street access to the hotel and continuing with twists in the hallways, narrow doorways, tight corners, and elevator access, the furniture has yet to complete its voyage.
Measuring hallway widths and gathering elevator specs, and sharing those with Biscayne's project team, will result in less damage to caseloads. Take it a step further by using a shipping matrix and adding a sidemark with specified room numbers on the sales order; this way our factories can apply tags as soon as each item is completed; those labels will be a tremendous help when the install team is trying to locate and match the furniture correctly to its room.
When installation is not part of the plan from the beginning, hotels can incur expensive mistakes. Biscayne Hospitality was tasked with producing and installing a very large wardrobe. We received the elevator dimensions early and even went so far as to make a mock elevator at the factory to be certain the wardrobe would fit. Unfortunately, by the time the piece was ready to install, the elevator specs had changed… but no one had informed the production team. The solution involved a crane lift, an open window, and a very large, very unnecessary financial cost.
Biscayne Hospitality has high-level expertise when it comes to securing products for delivery. We ask our clients to help us by preparing for installation early in the process, so we can discuss creating knock-down construction when necessary or even meet with the contracted installation team. Biscayne will always provide assembly instructions and, depending on the scope of the project, is prepared to send an experienced team member to ensure our deliverables are being installed as expected. Because we all have the same goals: an efficient, hiccup-free installation.
[This article was written by Sarah Mirza, Project Manager at Biscayne Hospitality]