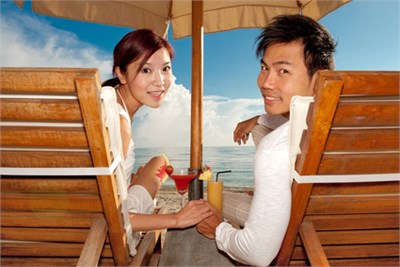 Making Luxury More Attainable

Collaboration, Curated Art Among Key Elements Addressed During Recent BITAC® Panel

Friday, March 09, 2018

bookmark this

We are on Twitter
The importance of collaboration, curated art collections and creating a good flow were cited by leading design executives as being among the most important elements needed to make a luxury hotel project successful. The executives shared their insights during a panel discussion entitled "Trading Up: Making Luxury More Attainable," which took place at the recent BITAC® Luxury event in Austin, TX.
Lauren Chipman, CEO, Chipman Design Architecture, talked about design that can make an impact and increase the bottom line for owners. She referenced public space amenities and asked, "how do we create a compelling environment for the locals too?…With the guestroom I want the guest to feel like 'I wish I lived here; I wish I had this bath; I wish I had this lighting in the bathroom.' I think those extra touches that create that kind of brand loyalty for the consumer will only increase the ROI and the guest experience," she said.
Celia Barrett, CEO, Barrett Design Studio, takes a similar approach. "How does your guest feel when you walk in the door? Of course I want the guest to walk in and go 'oh my God they've been waiting for me, it's my hotel they've designed it for me and now I'm here.' Then the service will take over and they will make them happy…I think it all flows together. It's a set design and we're the designers and the owner and brand are the directors and then the guests are the players and we're creating this wonderful space for them to play."
Meanwhile, Heather Jim, partner, P360 Concepts, acknowledged luxury's broader appeal. "Luxury is more attainable now to more people. The age groups of those that are aspiring to that sort of level is greater. They're more sophisticated and so they know what they're looking for. We want to be able to create those spaces or deliver those experiences that are memorable, but customized to that person. They don't want to be treated like a commodity," she noted.
Carleton Woodring, executive account manager, east coast, Biscayne Hospitality, provided a different perspective.
"I'm probably one of executioners in this group. Our feeling or attitude is to have each of the people that I'm sitting next to [on the panel] feel the same way as a guest would feel at the property. As a furniture vendor I want to make sure that the designer, the purchasing agent, and the owner are all excited about the execution of their project," he stated.
The group unanimously agreed that collaboration is a key component to any project.
"The most successful projects that we've been involved in is where we're deeply embedded with the designer at the beginning, as early as possible. We're working on budgets, working on the sourcing and getting a sense of what your design intent is so that we can assist in making sure we can deliver that to you. If everybody is on the same page we can eliminate that added time for back and forth or value engineering if the budget goes off the rails. If we can be far more collaborative we can be far more effective working with the vendor and designer on delivering on that product at the best value possible," commented Jim.
Barrett underscored the point. "It's a full team; these people are going to help us. I like to have people involved as early as possible also because nobody knows furniture better then the furniture maker. Nobody can help me with sourcing better than a good purchasing agent," she asserted.
Woodring further pointed out, "there is a unifying force here among the collaboration and it's the transparency that goes into the process. If we as a team are not transparent with ownership or with one another then there's all kinds of potential conflict and the process is inherently conflicting. How many times is there a conversation about value engineering a project? Our attitude is let's not value engineer it. Let's just get more aggressive if we can first so that we keep that transparency and so the designer and purchasing agent knows what they're dealing with," he said.
Jim elaborated on the monetary aspect. "It's being smart about how the money is spent. Inevitably there are always budgets, but if you're focused on the key guest touchpoints—not just from the guestroom level—but throughout the whole project down to the OSE and say 'where do we really need to focus our money together and get our biggest bang for the buck that is really going to be appreciated and memorable,'" she noted.
When it comes to the bottom line, creating design that lasts and doesn't need to be replaced as often is critical
According to Chipman, "I think that's the interesting quandary right now. I think it's being smart about the design decisions that we're making. It's spending the money in the right place, and really looking at design less from a trend perspective, but a timeless perspective and what are those quality items that are not going to change."
Barrett added, "literally the material in the bar is not going to change very often. That needs to be something wonderful."
The executives also emphasized the importance of art when it comes to luxury design, particularly as it relates to social media.
"I think artwork is a huge part of this in the luxury experience, having those I don't want to necessarily say 'Instagram' moments, but art installations that are compelling and are a statement piece. It's one of those places where it's important to spend that kind of money," said Chipman.
Jim added, "Those travelers now that are seeking that luxury they know the difference; they'll recognize that. I've been in some hotels where the guestroom had nothing actually, but the public areas had a beautifully curated art collection that I immediately sort of identified."
According to Barrett, "the challenge is to try to take the guestroom art and not make it look like guestroom art. That's what we're trying to do right now; that's a difficult challenge," she concluded.