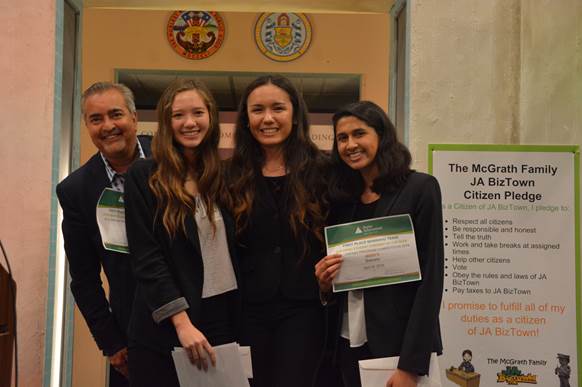 Here at Biscayne Hospitality, our team members are not only focused on providing better service for our clients, we are also committed to improving the communities in which we live. At our headquarters in Escondido, CA our team supports over 15 local nonprofits. Each month, we would like to take a moment to highlight a partnership.
This month, we showcase Junior Achievement of San Diego County. Junior Achievement was established in 1916 in Springfield, Mass to support the general advancement of boys and girls. Over 100 years later, Junior Achievement is an international entity that supports nearly than 10 million students worldwide. From kindergarten through high school JA educates students on economics and provides skills so they may make informed decisions about their future.
Biscayne Hospitality President, Javed Bhaghani, has proudly served on the Board of Directors for 3 years and has supported Junior Achievement since 2015. In 9th grade, Javed found himself sitting on a bench with a friend hearing that person talk about a group he was involved in. Fast forward to today and Javed owes his wife, career and business to that one conversation and decision to become involved in JA himself. "Junior Achievement participation is where I am today." says Javed.
Back in May of 2019, Junior Achievement and OtterCares Foundation hosted the JA Company Program Competition. High school students enrolled in this program are tasked with solving a problem within their community by launching their own start-up business. During the 2019 event, 17 students teams showcased innovative companies, with solutions ranging from repurposing clothing to developing apps to changing the hiring process for certain job fields.
Want to get involved with Junior Achievement? The Volunteer page offers a list of opportunities available.