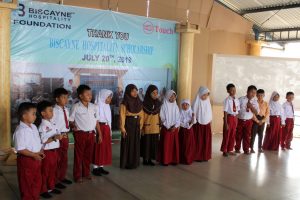 When Biscayne Hospitality was founded in 2004, the co-founders felt a calling to ensure that the company was giving back to the communities in which they served. In 2012, the Biscayne Hospitality Foundation was established as the philanthropic arm of the company.
Each year, the Foundation provides services to the factory workers with which our company partners. These programs include a rice giveaway at Ramadan and a partnership with Plan International to support their G.I.R.L. program for entrepreneurs and a scholarship program to help subsidize the cost of education.
Earlier in July, Plan International and Biscayne Hospitality hosted a ceremony for scholarship recipients at two of our partner factories in Indonesia; quality education is available at the public school level, however many families also need to provide additional money in order for their children to have access to the top public schools, uniforms or school supplies. "Providing this support to our factory workers is our way of thanking them for their time commitment and work." said Javed Bhaghani, President of Biscayne Hospitality.
July 2019 is our 5th year providing scholarships to these families, and it has proved to be our most successful. This year, 250 students received scholarships from Biscayne Hospitality. The breakdown of students is as follows:
·     140 elementary
·     60 middle school
·     35 high school
·     15 college
The ceremony provides an opportunity for scholarship recipients to receive certificates and to talk with students about being grateful to their parents. One recipient, a 13 year old named Rizky, said the following "I'm very happy to have Biscayne's scholarship, thank you. This will really help us, for me and my parents. I will be more diligent in study so that I can reach the best grade at school."
Thank you to all of our clients and partners who support Biscayne Hospitality and allow these programs to be possible. We look forward to sharing more success stories in 2019 and next year.