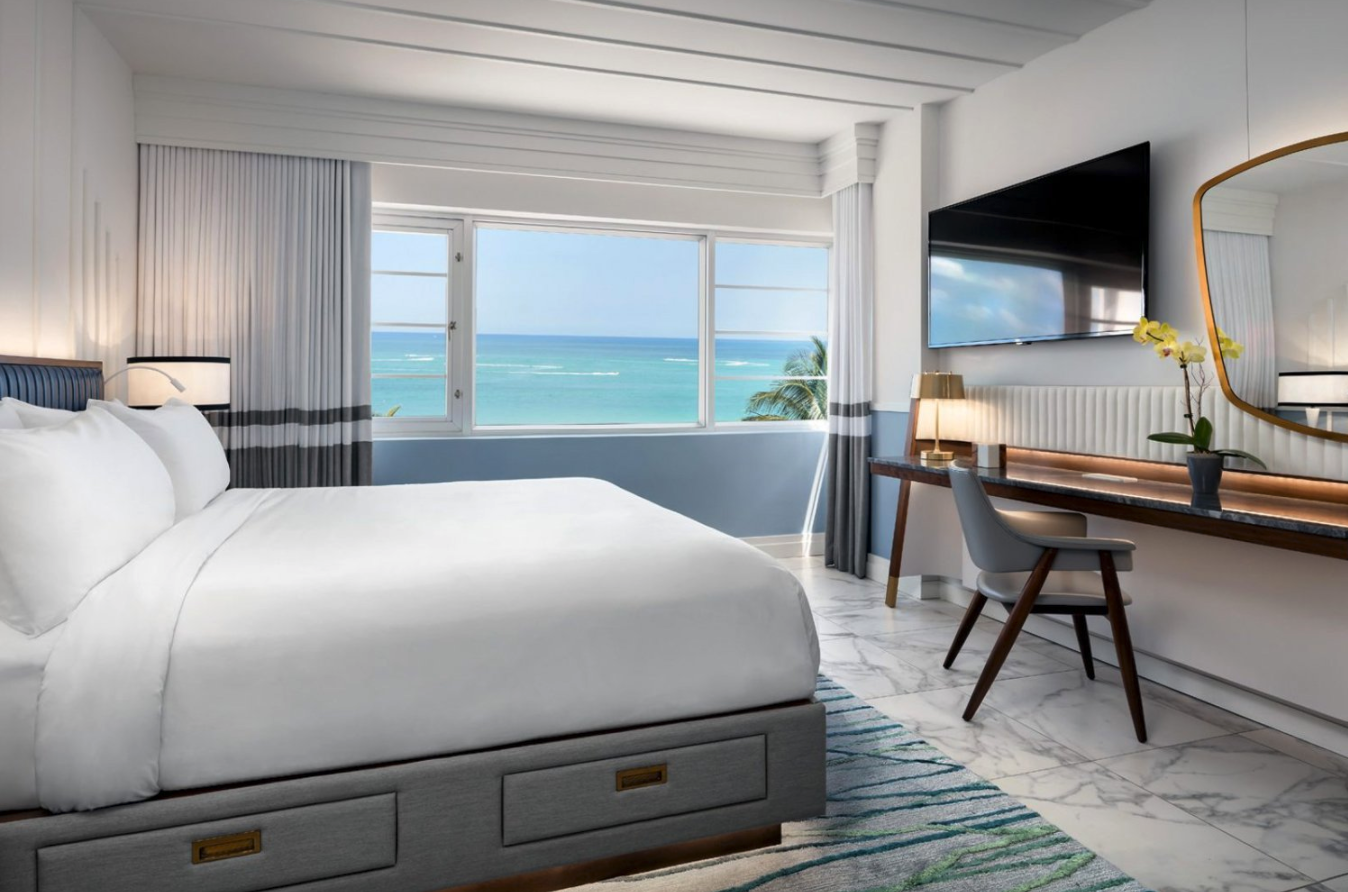 Hersha Hospitality is set to open the Cadillac Hotel & Beach Club this spring in Miami Beach, following a refresh from New York-based design firm Bill Rooney Studio. When it opens, the oceanfront property, first constructed in 1940 by Art Deco architect Roy France, will join Marriott's Autograph Collection soft brand.
The lobby will have original elements, such as terrazzo floors and a wraparound mezzanine balcony. Public spaces will also include a lobby bar and Riviera, a flexible public meeting space, leading to a terrace overlooking the pool deck.
The hotel will have 357 guestrooms spread across three buildings. Mirroring the façade, the Art Deco-inspired accommodations will have white stone floors, ambient lighting, and gold and smoky blue accents. In addition, the hotel's Cadillac suite will face the Atlantic Ocean with a 1,100 square foot terrace.
The property will also have a range of indoor-outdoor meeting spaces, such as a boardroom and a poolside ballroom.
For dining, the property will have a new beachside bungalow restaurant and bar area.
Click on link below to view additional photos.
https://www.hotelmanagement.net/renovations/bill-rooney-studio-refreshes-art-deco-property-cadillac-hotel-beach-club?mkt_tok=eyJpIjoiT0dVM1pUUXdOelEzTlRRMyIsInQiOiJpN0NZU2Vjc2hOZEFBWmt5a2RJZFdiaHhkdHl6aVR5YVYyZzhSMjc3MWhjWWV3NmZGaHQ2VTl6WWp3M0prMUJSN1J6RTdSdGljSTJPQjlyOUVmWjJJSjBaOStVNHZcL3JsZ01IUjNvWlRja0FsdkswVDF1Mnd0U1NtUkNOTEErSzIifQ%3D%3D&mrkid=40269701
Photo credit: Cadillac Hotel & Beach Club